Dr Sudha Balagopalan steps down as Principal and assumes role of Dean Academics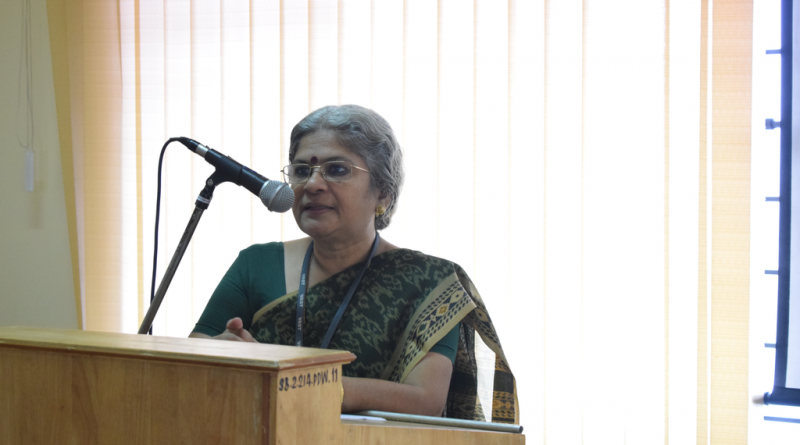 Dr Sudha Balagopalan, who has been serving the College as the Principal since 30 April 2012, has stepped down as the Principal and has assumed a new role, namely, the role of Dean Academics of the College. The Editorial Team of News & Events puts on record the deep thankfulness of the Team to her in her unconditional and wholehearted support in developing this news portal to its current standards. The Team also wishes her all success in her new role.
Dr Sudha Balagopalan has been associated with Vidya since the starting of the College and she has contributed immensely in various capacities in developing the College to its current level of prominence and reputation. The Editorial Team would like to reproduce what Er G Mohanachandran, Executive Director, VICT, wrote about her in a brief note shortly before she stepped down as Principal.
---
Er G Mohanachandran on Dr Sudha Balagopalan
Dr
. Sudha joined VAST, Thalakottukara, on 08-08-2003 along with seven other faculty members to start the preparatory works of the new college VAST scheduled to be inaugurated on 17-08-2003. Since then VAST, Thalakottukara,  grew in size, reach and fame to attain the present stature of a premier technical education institution in the State.
Dr
. Sudha kept pace with the institution's growth and made valuable contributions to it's development. Institution recognized her work and responded by elevating her to the position of  Assistant Professor on 21-01-2004 and Professor & HOD on 01-08-2008.
Dr
. Sudha had her PhD from NIT Kozhikode while in service in record time and became the first person achieving this in VAST.
During her tenure as Head of EEE Department she came up with a proposal to hold an international conference, the first among the self financing colleges in the state . College authorities and Trust officials were skeptical about its success  and so not favored it initially. However her confidence, determination and enthusiasm  influenced all and made to agree and thus started the now famous EPSCICON international conference series in 2010 January.
By this time she established as an authority in her subjects and gained name and fame in the academic circle. Trust offered her the premier post in the college and she became the Principal on 30-04-2012. During her period as principal college made impressive growth in size, activities and service. Above all she became the icon of love, care and compassion to her students, faculty, staff and parents.
In 2017, on completing 5 eventful years in the principal's post
Dr
. Sudha requested a change of role to concentrate more on academics and research, two areas close to her heart but could not pay due attention due to administrative responsibilities of the principal. Trust accepted the request and appointed a substitute as mentioned earlier.
Dr
. Sudha is not leaving us. She will continue in her new role of Dean Academics and guide us in academics, research and collaborations.
I take this opportunity to put on record our sincere gratitude and appreciation to all her contributions to  VAST, propagating the ideals of VIDYA, nurturing of the staff and care of students and also to welcome to the new role of Dean, Academics.
---