Vidya's placement front is vibrant: 19 placed in Sutherland, CRD by J&J Sourcing, Hexaware Technologies, . . .
Who says that there are no placement opportunities for engineering students? Ask Mr Paul Chakola, Head of Training and Placement Dept of Vidya, about this and he will confront you with a basketful of data to prove that it is otherwise. He will convince you with statistics that the placement scenario has never been as good as this year and the last year. But sometimes he feels a little disappointed that many of the really talented students of Vidya are not coming forward to grab the best of the opportunities that are coming their way. However, things are changing for the better. Here are some recent news from the placement front.
---
CRD by J&J Sourcing Ltd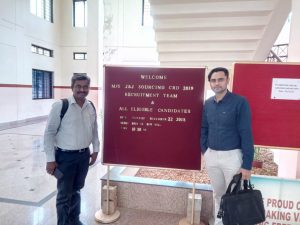 J&J Sourcing Ltd conducted a campus recruitment drive (CRD) for the 2019 pass out batch of students on 22 November 2018. J&J Sourcing is a leading supplier of "do-it-yourself" (DIY) kits to leading brands in the US and Europe covering both home refurbishing, domestic equipment and tools. As many as thirty final year students participated and eight students are shortlisted for the final interview to be held at the company's office at Coimbatore on 27 November 2018.
---
CRD by Hexaware Technologies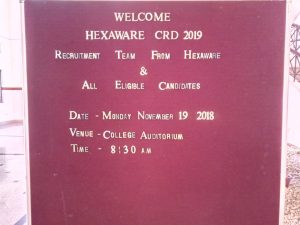 Hexaware Technologies conduced a pooled recruitment drive for the 2019 pass out batches of BTech (CSE, IT, ECE) and MCA on 19 November  2018. The eligibility criteria was 60% marks consistent across 10th, 12th and B Tech/MCA with classes no current backlogs. As many as 472 students from 23 colleges participated in the selection process. There was an online test with a duration of 1.5 hours . The interview for 78 shortlisted students is scheduled to be conducted on 26 – 27 November 2018 at MBITS, Kothamangalam.
---
19 students offered placement in Sutherland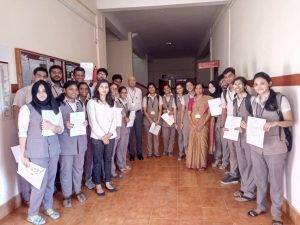 Congratulations to the 19 students from the 2019 pass out batches who are placed with the global IT/ ITES company Sutherland with head quarters at Pittsford, New York, USA. Sutherland has presence in 19 countries and over 120 global clients. In India, they have offices at Pune, Mumbai, Chennai, and Kochi. The selected students are :
| | | |
| --- | --- | --- |
| Anaswara S Mohan | B. Tech | CE |
| Gopika Thilakan | B. Tech | CE |
| Parvathi Sankar | B. Tech | CSE |
| Rahul SR | B. Tech | CSE |
| Anjali Murali | B. Tech | CSE |
| Surabhi Nair | B. Tech | CSE |
| Abhishek Nandakumar | B. Tech | CSE |
| Aswathi A | B. Tech | CSE |
| Athira A | B. Tech | CSE |
| Jahana Shirin | B. Tech | CSE |
| Jithin V Suresh | B. Tech | ECE |
| Neelima M Menon | B. Tech | ECE |
| Adithya Babu | B. Tech | EEE |
| Nabila | B. Tech | EEE |
| Meenakshi KU | B. Tech | EEE |
| Arjun Vijay | B. Tech | ME |
| Pranav Roy | B. Tech | ME |
| Neeraj N | B. Tech | ME |
| Karthika Venu | B. Tech | PE |
---