Vidya renews MoU with ICT Academy of Kerala
The existing Memorandum of Understanding (MoU) between Vidya and the Information and Communication Technology Academy of Kerala (ICTA-K) was renewed for a further period of one year at a simple function held at the Principal's Chamber on 28 February 2019. Under the agreement, ICTAK shall provide faculty and student training, facilitate for online technical talks, student development programs using Paatshala, industry-institute interaction at regional level, student assessments, etc.
First signing of the MoU
The Memorandum of Understanding was first signed on 7 November 2014 in a ceremony presided over by the Executive Director, Er G Mohanachandran. On that occasion, on behalf of the College, Dr Sudha Balagoplan, Principal, signed the document and on behalf of ICTAK, Mr Santhosh Kurup, CEO of ICTAK, signed the document.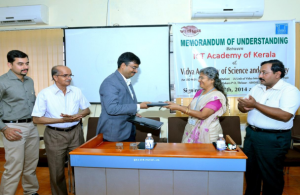 Here is a photo taken on the occasion of the signing ceremony on 7 November 2014.