CSE student participates in an international hackathon and wins prize
Vidya's moment of glory in an international arena!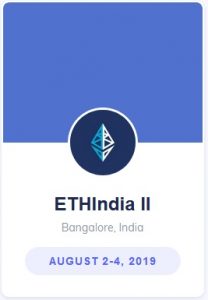 Subin Siby (S5 B Tech CSE B)  of  Vidya participated in Asia's biggest Ethereum hackathon known as ETHIndia 2.0 held at MLR Convention Center, JP Nagar, Bengaluru during 2 – 4 August 2019. 
Ethereum is an open source blockchain based distributed computing platform. The international Ethereum foundation, UNICEF Foundation and various companies and startups operating in Ethereum ecosystem sponsored the grand event. More than 1800 enthusiasts applied to participate in the hackathon and around 400 enthusiasts were selected. There were only 11 keralites among the 400 selected persons.
The team "Bohemian Satoshi" to which Subin Siby belonged  became one of the six winners of the hackathon. The team's project was on "Decentralized Torrent Search Engine" nicknamed Tessa.