Academicians turn stage performers: Vidya's staff and faculty celebrate Onam
It was a day for the staff and faculty of Vidya to let their hair down! And they did it eminently!! The day was Saturday, 7 September 2019. The faculty and staff of Vidya had assembled in the College Auditorium to celebrate Onam with all the joyfulness of the occasion. All the activities were meticulously planned and executed by the Executive Committee of the Staff Club of Vidya.
Music and dance
After a brief formal session with felicitations and Onam messages, the stage was cleared for the  exhibition of artistic talents of Vidya family members. There were plenty of talents indeed. There were singers, dancers and dancers. All had come prepared after a lot of rehearsals. The karaoke signing performances by Dr Swapna Kumar S and Prof V  Jayadevan mesmerised all present. The well-choreographed, rightly themed dance performances by teams from various Departments showcased the hidden talents among the faculty and staff members of Vidya.
"Group Photo"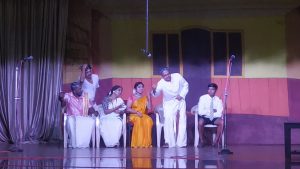 The climax of the performances was a drama presented with professional standards. The drama that was presented was an adaptation of a drama titled "Group Photo" authored by the legendary maverick of Malayalam theater N N Pillai. In between the music, dance and drama there were entertaining fun games and other activities also.
Onassadya
Of course there was the lavish traditional Onassadya without which one could not even think of Onam celebrations.
---
Image gallery: Formal session
Image gallery: Cultural events
Image gallery: Onasadya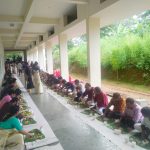 Image gallery: Miscellaneous
---