B Tech (ME) student attends seminar on "Global Solar Yatra and Smart Energy Program"
Naveen T A, S7 B Tech ME student, attended a seminar on "Global Solar Yatra and Smart Energy Program" and a talk by  Dr Chetan Singh Solanki, Professor, Energy Science & Engineering, IIT Bombay, held at St Thomas College Thrissur on 2 October 2019.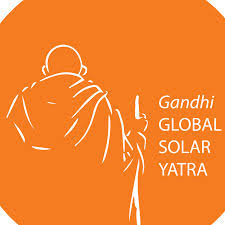 Prof Solanki noted that the contradictory energy requirements, wherein on the one hand there was the requirement of providing universal energy access while on the other hand there was over-exploitation of energy, were causing catastrophic climate changes. The world is already hotter by nearly 1°C. The world needs to adopt 100% renewable energy by 2050. Therefore, there is an urgent need to have a re-look at the current energy generation scenario and its delivery mechanisms. Prof Solanki remarked that this is the time to bring "Energy Swaraj" on
the lines of Mahatma Gandhi's epitomized philosophy of "Gram Swaraj." At the culmination of this Yatra it is planned to organise "Students Solar Ambassador Workshops" wherein more than one million students will be given hands-on training in solar lamp assembly. This event is based on a similar workshop which was conducted in 2018 wherein more than 1.30 lakh students across India participated.