SAP conducts workshop on AI and hands-on session on LED Star Assembly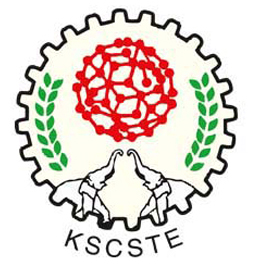 Under the aegis of Science Awareness Programme (SAP), an initiative from Vidya family for creating deep understanding and appreciation of science among school students, Vidya organised a workshop on  Artificial Intelligence and a hands-on session in LED Star Assembly on 4 January 2020. The programme was funded by Kerala State Council for Science, Technology and Environment (KSCSTE). As many as 79 students of classes 10, 11 and 12 from four different schools (HSS Panangad, Durgavilasam HSS Peramangalam, Appu Memorial School Thaikaad and Sree Sarada Math HSS Muthuvara)  in Thrissur district participated in the programme.
Inauguration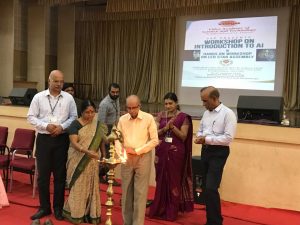 The inaugural ceremony of the programme was held at 9.30 AM in the Pranavam Auditorium. Dr Latha Raj, Advisor, SAP and Director, Students Welfare and Social Projects, welcomed everyone to the session. Dr Saji C B, Principal, presided over the function. Er G Mohanachandran, Executive Director, VICT, inaugurated the programme by lighting the traditional lamp. He also delivered the inaugural address. All the speakers stressed the importance and applications of Artificial Intelligence. Following this, a special address was delivered by Mr K K Thilakan, SAP Coordinator, VICT. Ms Akhila R (AP, EEE Dept and the SAP Convenor) delivered the vote of thanks.
Workshop on AI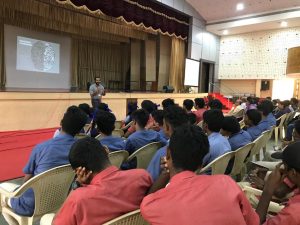 The first session on Artificial Intelligence was conducted by experts from Vidya affiliated to V-CAIR, namely, Mr Suraj Rajappan (AP, ECE Dept) and Mr Sreekanth R Shekar (AP, EEE Dept). They were joined by Mr Hemanth J (S7 B Tech CSE) the student secretary of the AI Club in Vidya. There was also a very good interactive session.
Hands-on session on LED Star assembly
The experts from Vidya Skill Centre, Mr Shibin P V (EEE Dept), Ms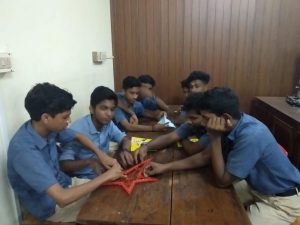 Nimya (AS Dept), Ms Jeeja K R and Ms Shegi Prakash (ECE Dept) handled hands-on sessions on LED Star Assembly in the Physics Laboratory. It was a really entertaining and useful session and students enjoyed it thoroughly.  The session came to an end at 12.45 PM.
Conclusion
The students and teachers were provided lunch in our canteen. All the students who participated in the workshop as well as their teachers appreciated the workshop and thanked the organizers for the efforts taken in the conduct of the workshop. The programme was well received by all.
---
Image gallery: Inaugural ceremony

Image gallery: Hands-on session on LED Star Assembly
Image gallery: Mementos
---