MCA Dept conducts all Kerala online course on website creation
The MCA  Dept of the College successfully organised of an online course on website creation. The course was open to all undergraduate students studying in Kerala. The three-hour course held on 3 June 2020 was organised as part of the ongoing all-Kerala website creation contest christened "eSpiderZ-Kerala Challenge" conducted by the Dept . The resource persons for the course were Ms Salkala K S and Ms Siji K B, Assistant Professors in the Dept. As a preparation for the course they conducted a full rehearsal of the course with a few of MCA students as participants. They had even conducted rehearsals of the rehearsals! Google Meet was the platform used for conducting the course.
The contest has attracted 254 registrations from colleges in all parts of Kerala – from Kasaragod to Thiruvananthapuram. Even though the online course was free and open to all registered participants of the contest, perhaps due to the starting of online classes by the universities and colleges, not all of them could participate in the online course. However, the  organisers were happy to note that as many as 64 genuinely interested students attended the course in full and they had given excellent feedback about the course. A last minute comment by a participant who had signed in as Zaitun Mohamed Ali is indicative of the way the course was taken by the participants.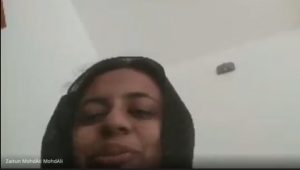 "I am a BA English language and literature student. The class was so interesting that I could not take away my eyes from the screen even for a second. I have no CS background. I could understand everything so clearly and I never thought such things could be presented so easily and clearly in Malayalam. I have not seen you before but I am immensely thankful to both teachers for such a nice presentation."
The entire course has been recorded in full. After some minor editing like removing blank screens etc, the video will be made available via YouTube.
Click below to read a report on the launching of eSpiderZ-Kerala Challenge:
Screenshots
Feedback
---