Organic farming: EEE students develop smart composting system
A team of students from the EEE Dept of  Vidya developed a smart composting system that could maintain optimum temperature, humidity, and soil moisture which would help to reduce the time required to produce compost and improve the quality.
The idea may not be totally new, but the fact that it was conceived and the product was indigeneously developed makes it exciting!
Initially, food waste is collected and stored in a container to kick start the composting process by the conventional method of composting. After two weeks, it is moved to the smart compost system. The smart compost system sends real-time data on temperature, humidity, soil moisture, and methane gas emission to a web page and can be accessed using a Smartphone or computer through any web browser. A mixer-shaft is provided for mixing the compost which also increases the oxygen flow in the system. The temperature and soil moisture of the compost is controlled automatically by adding water, brown waste, opening and closing the upper shutter. Mixer-shaft, water pump and the upper shutter can also be operated manually through the web page.
Aparna K S, Sameena Ali Salim, Pravineesh Krishna K P, and Simon Thanikkal John were inspired to develop the machine to help organic farmers in their homeland. The project was completed with the support of teachers during the lockdown. The project was guided by   Mr Rajesh S K (Asso Prof, EEE Dept) with the help of  Dr Mary P Varghese (Asso Prof and Head-in-Charge, EEE Dept).
The development of the system attracted a lot of attention in both print and electronic media.
---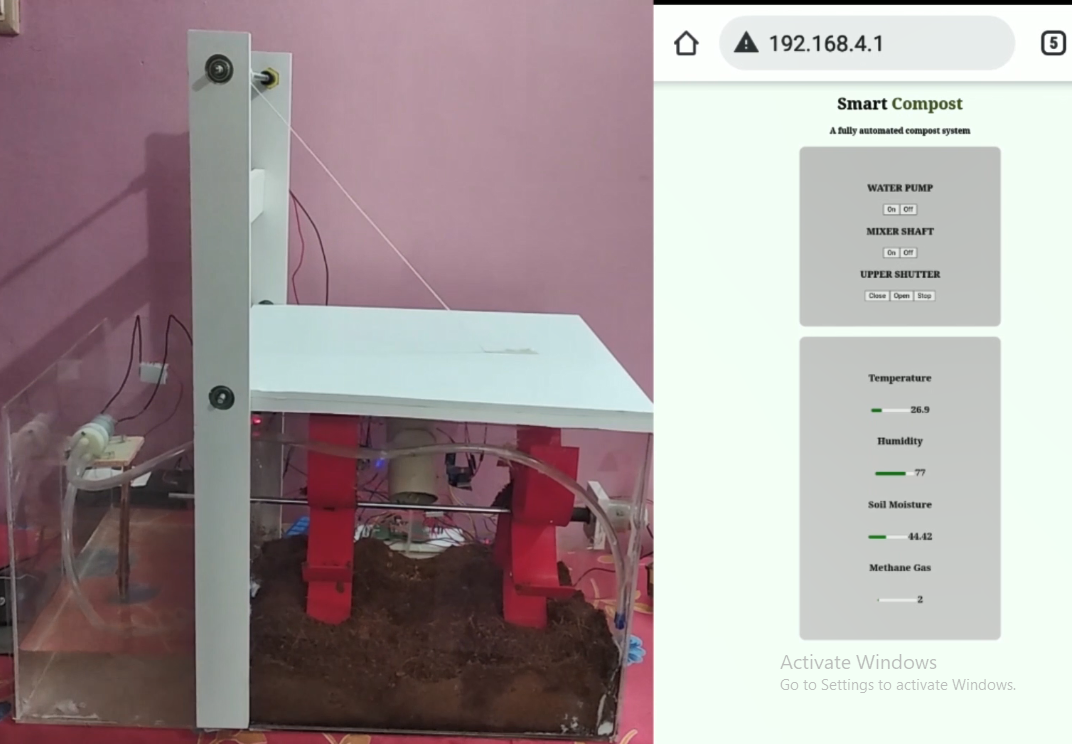 ---
News in electronic media
---