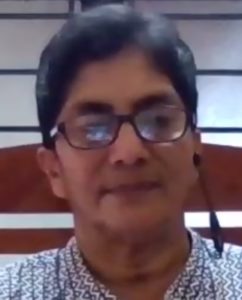 Vidya observed the eleventh death anniversary of its founder executive director  late Er K R Brahmadhathan on 17 September 2021 with a host of programmes. All those who were fortunate to associate with him remember him as a great humanist, a dependable friend, philosopher and guide, as one of the key persons instrumental in the establishment of Vidya with its current structure and also as an ardent and passionate proponent of the Yoga practices.
Due to the COVID pandemic, the event was  conducted in online mode via Zoom platform. As many as 300 persons  participated in the online event. The chief Guest of the function was Dr P Bhanumathy, founder of  AMHA (Association for Mentally Handicapped Adults). She gave  a talk on "Social Behaviour and Culture of Youngsters."
Highlights of Brahmasmrithi 2021
An introductory talk by Dr Justine Jose C (Prof and Head, CE Dept) representing the Organising Committee
A video presentation on the life of late Er K R Brahmadathan prepared by the Organising Committee
Welcome address by Dr Saji C B, Principal
Presidential address by Sri Manoj Kumar, Vice Chairman, VICT
A useful and  interesting talk by  the Chief Guest Dr P Bhanumathy
Video presentation of a Yoga demonstration by Vidya's alumni
Felicitations by Er P K Ashokan (Chief Patron, VICT), Er K G Sukumaran (Author Trustee, VICT), Er G Mohanachandhran (Honorary Advisor and Non-executive Director, VICT), Mr Sureshlal (Executive Director, VICT), Er R Devarajan (Project Director VICT), Er M N Chandran (Vice president, KSEB Retaired Engineers' Forum), Dr Sudha Balagopalan (Dean Academics, VAST), Dr V N Krishnachandran (Vice Principal, VAST),  and Ms Nisha Valsan (PTA President)
Vote of thanks by Dr Deepa Mohan, Coordinator of Bramasmrithi 2021.
---
Image gallery
---
Video record of the programme
---