Vidya NSS volunteer selected for Pre-Republic Day Parade Camp
Vinay M V (S5 B Tech EEE), one of the Volunteer Secretaries of the NSS Units of Vidya, has been selected for attending the Pre-Republic Day (PRD) Parade Camp (2022). The university level camp for selecting volunteers for participating in the PRD Parade Camp was conducted on 29 October 2021 at Albertian Institute of Science & Technology, Ernakulam.
PRD Parade Camps are organized to select NSS Volunteers for participation in the Republic Day Parade. The PRDs, each with a participation of 200 volunteers and lasting over 10 days, are organized at zonal level in five zonal centers throughout the country. From among the 1000 volunteers attending the PRD Camps, a team of 200 volunteers is selected for participation in the Republic Day Parade. In these camps, the volunteers are imparted training in march-past and also several youth development programmes are conducted.
Vidya's NSS Volunteers' participation in previous years' PRD Parade Camps
| | |
| --- | --- |
| 2020 | Alkesh Mohan V ( S5 B Tech EEE) |
| 2019 | Anjana P ( S5 B Tech ECE A) |
| 2017 | Vishnu P C and Sreedevi A J |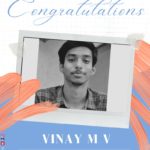 ---