Vidya's former CSE HoD Dr M N Agnisarman Namboothiri publishes Malayalam translation of Sanskrit classic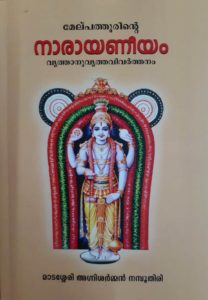 Dr M N Agnisarman Namboothiri who was a former Head of the CSE Dept of Vidya and who is currently associated with many academic activities in Vidya has published a complete Malayalam translation of the great Sanskrit classic Narayaneeyam authored by Melpathur Narayana Bhattathiri (1560–1666 AD), one of the celebrated Sanskrit poets in Kerala. The Narayaneeyam is available with Malayalam translation in several formats: Some containing detailed commentaries, some with straight forward translations of the slokas and some with word meanings. But nearly all of these translations are presented in prose. The most noteworthy feature of Dr Namboothiri's translation is that the translation is given in the poetic form retaining the meter of the original slokas for every sloka. The Narayaneeyam, divided into one hundred cantos, condenses the Bhagavata Purana into 1034 verses. The work occupies a very high place in Sanskrit literature, both because of the intense devotional fervor of the verses and because of their extraordinary literary merit. The Narayaneeyam is one of the most popular religious texts in Kerala and Tamil Nadu, and devout Hindus often recite it together in festivals and groups. This Malayalam translation is published by Pnachangam Pusthakassala, Kunnamkulam.
To know more about Narayaneeyam and its author, read the Wikipedia articles at the links below:
Incidentally, in 2016, Dr Namboothiri had been selected for the Kavanakouthukam-Nedumpily Award for the best mukthakam published in the Malayalm monthly Kavanakauthukam in the year 2016.
---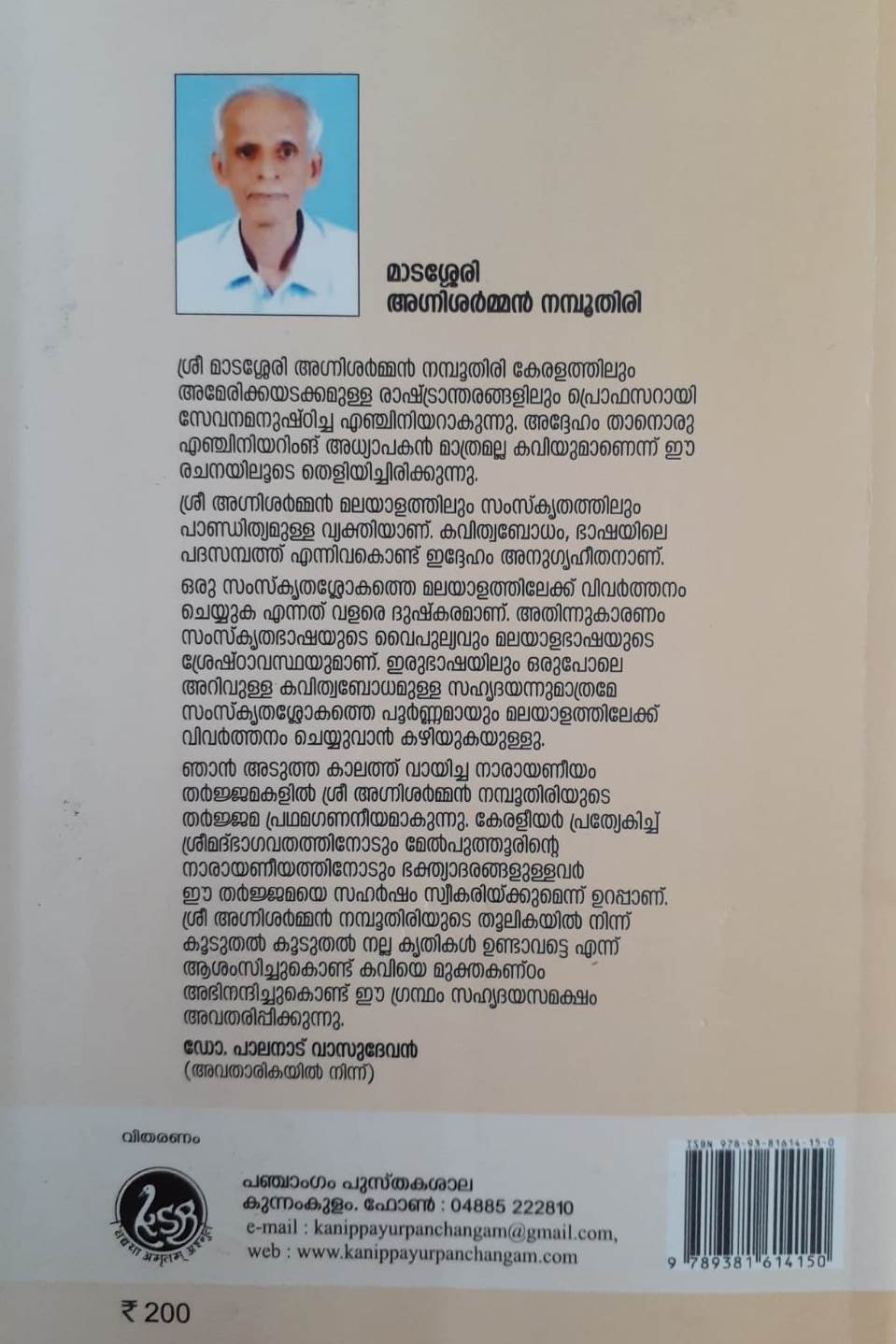 ---