VICT organises town hall meeting of all employees of Vidya
The VICT organised an online town hall meeting of all employees of Vidya via the Zoom platform at 7.00 pm on 4 January 2022. After welcoming the participants, Dr Saji C B, Principal explained the context in which the meeting was being held and presented a brief overview of the current scenario in which the College was functioning. Dr Santhosh Prasannan, Chairman-VICT, explained at length the status of the current activities of the Trust which have a bearing on the functioning of the College and also about the future plans of expansion for the College. He also envisioned the College acquiring autonomy in the not so distant a future. Mr Sureshlal, Executive Direcor-VICT, Mr Unnirajan P N, IPS (Retd), Director-Administration and Er P K Asokan, Chief Patron-VICT also spoke on the occasion. There was also a lively question-answer session.
So, what is a Town Hall Meeting?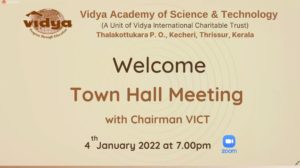 A Town Hall Meeting is an organization-wide meet in which an executive report is made and then employees or guests have an opportunity to ask questions and engage with business executives. Town Hall Meetings usually begin with a "State of Affairs" presentation and include time for questions and answers. The purpose of a town hall meeting is to allow:
Management to keep their team up to date on important information.
The team to ask questions of management and give their feedback.
Everyone to understand the goals and values of the organization.
Town hall meetings also go by the name of All-Hands meetings. The term "all-hands" captures exactly who needs to attend the town hall meeting. Everyone!
(From various internet resources)
---
---