Webinar on concrete mix design and quality control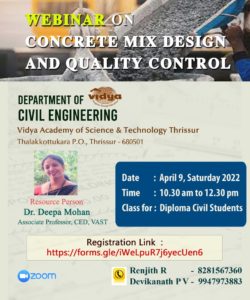 The CE Dept of the College used to conduct technical sessions on various topics of relevance every year as a part of social commitments.  This time it was conducted as webinar session on the topic "Concrete Mix Design and Quality Control".  The target audience of the session was final year diploma students of civil engineering studying in various polytechnic colleges. Out of 182 students who had registered for the webinar, as many as 120 students attended. It was conducted online using Zoom platform on 9 of April 2022. The presidential address was given by Dr N Ramachandran (Prof and Head, ME Dept) followed by an address by Mr Renjith R (AP, CE Dept).
Dr Deepa Mohan (Asso Prof, CE Dept) handled the technical session. The vast experience in the field and the overall presentation was well appreciated by the participants.  The webinar came to an end by 12.30 PM  after the discussion and feedback session.  The vote of thanks was offered by Mr Kiran Babu A R (AP, CE Dept).
---
Video record of the webinar
A video record of the session can be watched in YouTube at the link below.