Dr V N Krishnachandran, Vice-Principal, bids adieu to Vidya 
After more than 14 years of service in Vidya, Dr V N Krishnachandran (Vice-Principal and Head of MCA Dept)  bid adieu to Vidya on 31 May 2022. Every member of the Vidya family acknowledges him as a  person who has  inspired all his colleagues  to strive for excellence and to carry out their tasks  better by working as a team.
About Dr V N Krishnachandran
Prior to joining Vidya in March 2008, he had been working in various Govt colleges as a mathematics teacher. He retired from Govt service as Principal, Govt. Victoria College, Palakkad, in May 2007. Dr Krishnachandran joined Vidya as Professor and Head of MCA Department  on 1 March 2008. Subsequently in April 2012, he was redesignated as Vice-Principal also. Consequent on completing 70 years of age, he retired  from Vidya's service on 31 May 2022.

A fervent teacher with more than 40 years of  experience in teaching and a British Council Scholar in Loughborough University of Technology, U K, Dr Krishnachandran  has held various positions in Vidya including that of ISO Advisor, Discipline Committee Advisor, Chief Editor of News & Events, Coordinator of several prestigious events like Graduation Ceremony and Brahmasmrithi.   As a teacher, the students who were lucky enough to attend classes of Dr Krishnachandran, were astounded by his ability to make even the most complex concepts easily understandable. He has left  a strong impression on the hearts and minds of his students and colleagues.
Dr Krishnachandran has got around 62 publications to his credit which include six books, several websites and the much appreciated Ramayana Mobile App. He is also an enthusiastic Wikipedian in the sense that he has contributed more than 350 articles to Wikipedia, the encyclopedia which anybody can edit. He was instrumental in designing and launching the official YouTube channel for Vidya. Dr Krishnachandran has served as resource person for  several workshops on LaTeX, Computer Algebra Systems etc.

Farewell ceremony in Principal's Cabin
To mark the special occasion of the Vice-Principal's  retirement, Principal's Office arranged a farewell function in the Principal's Cabin on 31 May 2022. Dr Saji C B (Principal), Mr Sureshlal (Executive Director),  all heads of departments representing both academic and non academic departments attended the function. All the attendees reminisced about Dr Krishnachandran's exemplary contributions to the overall   growth of Vidya.  As a token of gratitude and respect, a  memento was presented on behalf of the Principal's office to Dr Krishnachandran. Dr Krishnachandran thanked the Principal and all others present for their kindness in arranging such a function. He also thanked them all for their sincere cooperation and support in carrying out the various activities in Vidya.

Farewell by Heads of Departments
The Heads of various Depts visited Dr Krishnachandran in his Office Room to bid adieu to him and wish him a contented retired life. They also presented a memento as token of their great regard for their illustrious colleague in Vidya. Dr Krishnachandran thanked them all for their kind gesture and assured them that he will be cherishing the memories of his association with them for many many years to come.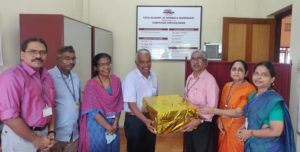 Farewell by faculty and staff of Applied Science Dept
Remembering the special relations Dr Krishnachandran had with the Applied Science Dept, the faculty and staff of the Applied Science Dept along with Dr Jiby Jose, Head of Dept, made a special visit to the Office Room of the Head of MCA Dept and conveyed their best wishes for a happy retired life to Dr Krishnachandran. They also presented him a memento in remembrance of the many happy and fruitful moments they had with him. Dr Krishnachandran thanked them all for their gesture and assured them that he would be available for help and advice for any activity the Dept might undertake in the future.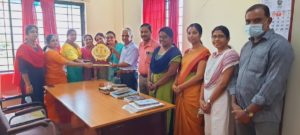 The Editorial Team of  News & Events joins the entire Vidya family in wishing Dr V N Krishnachandran  a happy retired life.
---
Images from the ceremony
---