Vidya NSS Team in the golden glow of four State Awards
The Editorial Team of News & Events is happy and proud to share one of the great achievements of the NSS Units of Vidya.
The proud NSS team of Vidya always considers awards and accolades as a real contributor for continuous improvement and the enhancement of society and as an inspiration for others to meet or exceed further the standards next next time around.  In the National Service Scheme State Award Ceremony for the years 2018-19, 2019-20, 2020-21 held on 08 June 2022 at Nishagandhi Auditorium, Thiruvananthapuram, Vidya's name figures prominently at four places in the list of awardees.
NSS Units of Vidya  received  four prestigious awards for the years  2018-19 and 2019-20 as detailed below:
| | |
| --- | --- |
| Category of Award | Award Winner |
| Best Unit 2019-20 | Vidya's NSS Units |
| Best Programme Officer 2019-20 | Anil M (Asst Prof, ECE Dept) |
| Best NSS Volunteer 2019-20 | Nirmal Bino  (2017-21 Batch, ECE Dept.) |
| Best NSS Volunteer 2018-19 | Sreehari A M (2016-20 Batch, EEE Dept.) |
The ceremony was inaugurated by Mr Pinarayi Vijayan (Hon'ble Chief Minister of Kerala) and   chaired by Dr R Bindu (Minister for Higher Education). The awardees received the awards from Mr Pinarayi Vijayan (Hon'ble Chief Minister of Kerala), Dr R Bindu (Minister for Higher Education), Mr V Sivankutty  (Minister for General Education and Labour) and Mr A A Rahim (Member of Rajya Sabha from Kerala).
Sreehari and Nirmal Bino are NSS National Award winners also!
The readers might recall the news about Sreehari A M (2016-20 B Tech Batch, EEE Dept) and Nirmal Bino  (2017-21 B Tech Batch, ECE Dept) receiving the Indira Gandhi National Award for the Best NSS Volunteer from His Excellency Shri Ram Nath Kovind, President of India, for the two consecutive years  2020 and 2021 respectively. In view of the then prevailing pandemic situation in the country, the award ceremonies were conducted in the online mode by the Ministry of Youth Affairs and Sports.
Meet Sreehari A M

In the year 2018, Sreehari had participated in Republic Day parade in New Delhi representing NSS Technical Cell and was also a part of International Youth Delegation Program in Vietnam. His contributions to GIS mapping of Velur Panchayath, relief works at Chalakkudy and Thrissur during the 2019 floods, works related to the home for homeless projects, integrated farming activities etc. were considered for selecting him as one of the best NSS volunteers in the country.
Meet Nirmal Bino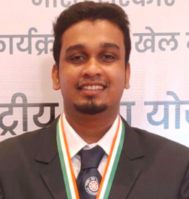 Nirmal Bino was selected for the award for his outstanding NSS related work including exemplary GIS mapping, performance at the National Integration Camp in Kerala, praiseworthy and dedicated sanitation works in railway station premises in the district, work related to refurbishing of damaged equipment in hospitals, flood reconstruction work and implementation of housing projects for the homeless in Edappal in Malappuram.
Meet Anil M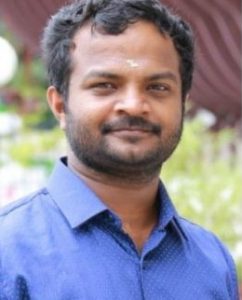 Mr. Anil M (Asst.Prof, ECE Dept) played the role as  an organizer, a coordinator and an administrator, to improve the excellence of NSS activities in Vidya. The many activities led by Mr Anil like Water Conservation Survey, Local Empowerment through Digitalization (LED), GIS  Mapping, Socio-Economic Survey, Green Campus Clean Campus Campaign, Amrut Survey, Solar Power Plant Fixing  etc are examples for enhancing the knowledge and skills of the students. Home for Homeless, mass blood donation campaigns, GIS Workshop and digital literacy trainer workshop, Eye Campaigns, LED Assembling and Selling, The activities like Integrated Farming, CNC Machine Training, Solar Energy implementation, V Challenge Waste and Wastage, Workshops on Domestic Maintenance Engineering,  Karunyavum Karuthalum-Medical Survey Camp, Honesty Shop, etc inspired and motivated  the NSS Volunteers to set realistic goals and thereby witnessed an enhancement in the quality of life of the needy people of the society. Mr Anil also served  as a Regional Coordinator under NSS Technical Cell for three districts and Covid Nodal Officer.
The Editorial Team of News & Events joins the entire Vidya family in extending heartiest congratulations to all the awardees on their commendable achievement.
---
News in CCTV
---