Kerala floods 2019: NSS units make Vidya a centre for collection of relief materials
As this report is being written (14 August 2019), there is still not much respite from the fury of floods that are ravaging nearly all parts of Kerala. All educational institutions in Thrissur District are remaining closed since 9 August 2019. The NSS volunteers of Vidya, who got much acclaim and praise for their wholehearted and selfless efforts in mitigating the sufferings of people during the floods of 2018, are active again. They have put their bodies and minds in extending a helping hand to whoever requires one. As a new initiative this time, the NSS units have turned Vidya into an unofficial centre for the collection of relief materials.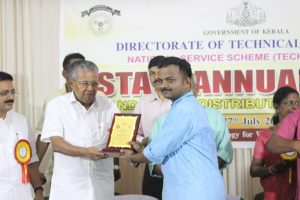 Recall that Mr Anil Melepurath (AP ECE Dept and NSS Programme Officer) has recently been selected as the most Active Coordinator for Flood Relief Activities  and received an award for the same from Sri Pinarayi Vijayan, Chief Minister of Kerala, in a function held at Thiruvananthapuram on 27 July 2019.
The centre is collecting all items that are likely to be useful to those affected by the floods and those who are temporarily staying the various relief camps, items like essential medicines, soap, tooth brush, tooth past , biscuits, drinking water, buckets and cups, mats, dress items like  lungi , shirts, dresses for kids,  bed sheets etc. The collected items are to be transferred to flood affected regions through authorized Government agencies.