NSS units organise Blood Donation Camp
The NSS unit of Vidya, in association with District General Hospital, Thrissur, organised a Blood Donation Camp  in the College on 01 October 2019 as a part of the observance of the National Voluntary Blood Donation Day. Around 50 units of blood were donated by Vidya's NSS volunteers. The Camp was followed by an awareness class by Dr Indu on the importance of donating blood. A quiz competition was also conducted using the questionnaire prepared by Kerala State AIDS Control Society (KSACS)  as a basis.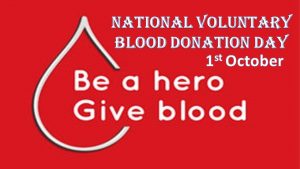 The observation of National Voluntary Blood Donation Day in India started on 1 October 1975, under the initiative of Indian Society of Blood Transfusion and Immunohaematology. Since then, the 1st October of each year is being observed throughout the country as the National Voluntary Blood Donation Day. Voluntary blood donation is undoubtedly, the highest form of humanitarian service as it is done without expectation of even knowing who it will help. There is a higher altruistic thought that motivates such action. One single blood donation actually helps many patients as blood is usually segregated into RBC's, Platelets, WBC's and Plasma and given accordingly for their requirement.
Image gallery