MCA Dept organises AICTE sponsored national Faculty Development Programme
The MCA Dept of Vidya is organising an AICTE sponsored Two-week Faculty Development Programme (FDP) on Computer Algebra Systems in Applied Mathematics during 30 Jan 2019 – 11 Jan 2020.
Inauguration
The inaugural ceremony of the programme was held on 30 January 2019 in the Advanced Computer Lab. In the ceremony, Dr Vrinda V Nair, Dean (Research), APJ Abdul Kalam Technological University, formally inaugurated the FDP by lighting the traditional ceremonial lamp. The dignitaries present also joined her in the ritual. In her inaugural address, Dr Vrinda Nair stressed the importance of research in higher education and also explained the steps taken by APJAKTU to promote research in colleges affiliated to the University.
Release of Proceedings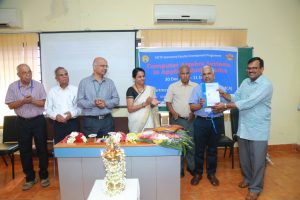 Also, during the ceremonies, Dr Sudev N K, Professor, Christ (Deemed to be University), Bangalore released the Proceedings of the FDP. He talked at length about the importance and relevance of the topic of the FDP, namely, Computer Algebra Systems in Applied Mathematics, in the teaching-learning processes in engineering colleges. Dr Saji C B, Principal, VAST, presided over the function. VICT Chief Patron Er P K Asokan graced the occasion with his presence and felicitated the programme. Dr V N Krishnachandran (Prof and Head, MCA Dept) gave an overview of the FDP. VICT Administration and Finance Director Mr Suresh Lal, and Retired Professor Dr K B M Namboothiripad also offered their felicitations.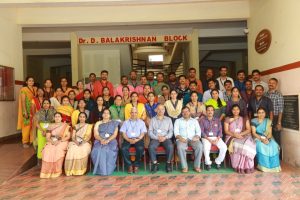 Objectives of the FDP
The main objective of the FDP is to introduce to the participants software packages known as "Computer Algebra System" (CAS) which are  mathematical software  with the ability to manipulate mathematical expressions in a way similar to the traditional manual computations. The programme aims to provide hands on training to the faculty of engineering colleges. The programme is attended by around 50 faculty from various engineering colleges across the country.
---
The event in the media