Eighth volume of ME Dept's annual magazine MEK'D released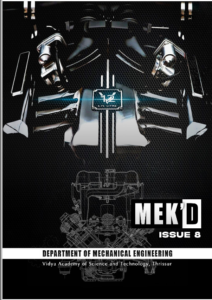 The launch of the eighth volume of the ME Dept's annual magazine "MEK'D" was held on 2 November 2021 in the Principal's Chamber by handing over a copy of the magazine to the Principal Dr Saji C B by the Department Head Dr N Ramachandran. The Staff Editor Mr R Shankar, faculty members of the Editorial Board Mr Jude and Mr Navaroj and student editor Mr Sreehari, and other Executive Committee members were also present during the release. The principal expressed his appreciation to all who worked in order to bring out this magazine despite the pandemic situation.
Read a report on the Release of MEK'D Volume VII!