Vidya's Career Guidance Programme is hugely popular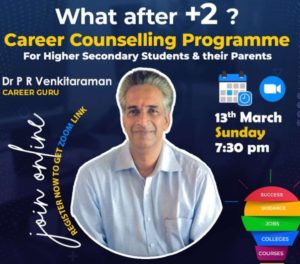 Vidya has been organising Career Guidance Programmes for the benefit of plus-two students regularly for the last several years. For the convenience of the attendees these programmes were being held at different locations. Since the outbreak of the Covid pandemic, the conduct of such programmes were switched to the online mode. Previously, these programmes were being held in the offline mode.
This year,  Vidya,  under the auspices of  Vidya's Initiative for Better Engineering (VIBE-2021), organized an online Career Guidance Programme (CGP) for higher secondary students on 13 March 2022 in the Zoom platform. Due to the huge popularity of such prgrammes, the latest event turned out to be a "mega CGP"!
Why career guidance?
Career guidance is the guidance given to individuals to aid them in understanding their skills, abilities and potential that are important for choosing the right career path. Providing career guidance to children at the time of completing the 10th standard and the 12th standard are very important as these are two crucial points in a student's life.Career guidance and counseling provided by professional career guidance counselors help students very much who are confused as to what career choice to make.
When higher secondary school students have a clear understanding of the best career choices for them, the end result is better planning, more college enrollments, and a more productive society. It was this realization that motivated the VIBE-2022 team to organize a CGP for higher secondary students.
The career guidance Guru
The main speaker of the occasion was Dr P R Venkitaraman, a career guidance Guru who is a pioneer in career counseling in Kerala. He opened and showcased the wide world of opportunities for students. He conveyed the fact that the passion and the aptitude should be the main criteria while selecting a career. There  were enormous number of doubts from the students regarding different areas of career options and it was well explained and answered by him.
The Principal Dr Saji C B greeted the speaker. The welcome address with guest introduction was delivered by Ms Divya Radhakrishnan (Assistant Finance Officer, VICT). She also moderated the session. As many as 350 students actively participated by raising questions and asking for Career Guru's clarifications and directions. The programme came to an end with the vote of thanks by Dr Deepa Mohan, the convenor of the programme. E-certificates were issued to the student participants.
---