Infosys recruits 11 Vidya students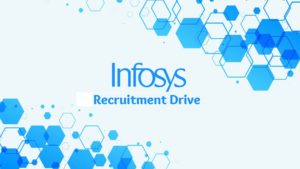 Infosys Ltd, one of country's and world's leading information technology, automation, services, and product company conducted their recruitment drive for the 2022 pass out batch through APJAKTU during the month of January 2022. This drive was open to engineering students of all branches of BTech, MTech and MCA programme. After the completion of the initial rounds the following students have been offered placements with Infosys.
Students please note
Please note that Infosys off-campus recruitment is now open again. Those who have not applied for the first drive can apply now. Freshers from BTech (all branches) / MTech (all branches)  / MCA who belong to the 2022 pass out batch can apply for the role of Systems Engineer by filling out the below link before Sunday, April 3, 2022:
Congratulations and Best Wishes to Infosys recruitees!
| | | |
| --- | --- | --- |
| Saranya V Simon | MCA | MCA |
| Rohini TB | MCA | MCA |
| Sharma Radhika Ramesh | B. Tech | CSE-B |
| Sreya UA | B. Tech | CSE-B |
| Neema Varghese | B. Tech | ECE-B |
| Loniya Jainney | M. Tech | ECE |
| Sreemol CV | M. Tech | CSE |
| Pranav Kuruppath | B. Tech | CSE-B |
| Anjali S Kumar | B. Tech | ECE-A |
| Aysha PA | MCA | MCA |
| Hridhya KB | MCA | MCA |
---