EEE Alumni launches its noble venture "ROOTS"
The Electrical and Electronics Engineering (EEE) Alumni Association of  Vidya Academy of Science and Technology has started a very novel and noble venture "ROOTS, as a gift to the institution and the department that nurtured them.
The idea of this initiative is to assist aspiring Electrical and Electronics Engineering enthusiasts financially, academically and professionally to ensure a successful future. The beneficiaries of the scheme will definitely have a holistic improvement, especially in their career and character development.
This scheme is propelled by the first four batches of EEE Alumni from 2003, 2004, 2005 and 2006 batches. Er. Ajin Aravind (2003-2007 Batch) is the President and Er. Aravind T (2004-2008 Batch) is the Secretary of the team taken from the first four batches of alumni.
For registration – https://forms.gle/XajEhUmYgHiBEdJr6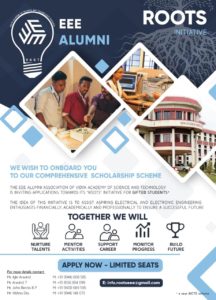 More Details