VICT Chairman addresses faculty and staff of both campuses of Vidya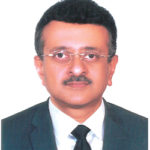 In an online meeting conducted on 18 September 2020 via the Zoom platforem, Dr Santosh Prasannan, Chairman VICT, addressed all faculty and staff members of both campuses of Vidya (Thrissur and Kilimanoor).  It was for the first time that the Chairman was addressing the faculty and staff of Vidya campuses. The meeting was hosted from Kilimanoor campus.
During his address, Dr Santhosh Prasannan talked about the formation of the Trust and also about the vision of the Trust regarding the growth of the institutions under the Trust. He also briefly talked about the vision document "Vidya Growth Plan 2020".  He indicated that some of the planned activities directed at the welfare of the faculty and staff of Vidya were formation of support groups and the conduct of wellness and stress management sessions for the employees of Vidya. He explaind how the formation of centres like "Centres of Excellence", "Vidya Social Empowerment Centre" and "Vidya Talent Centre" would help take Vidya on an accelerated pace of development and growth.
Mr Sureshlal, Administration and Finance Director, and Er R Devarajan, Project Director, and others also spoke on the occasion.
---