Vidya Skill Centre opens up to the public
As per the vision and declared objectives of the initiators, the recently launched Vidya Skill Centre is going to open up its services to the general public. The objective in launching the Centre was to make available the expertise in the campus for the service of all the people far away or nearby. On 14 June 2019 Er G Mohanachandran, Executive Director, VICT, publicly announced that the Skill Centre was ready to take up maintenance of electrical and electronic appliances.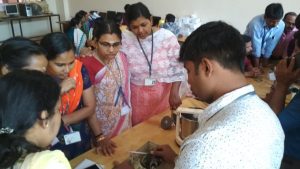 To provide these services the Skill Centre had conducted an in-house hands-on training programme for the faculty and staff of the College on 11 January 2019. As many as 37 faculty and staff of the College had participated in the programme.
Mr Anil M (Centre-in-Charge) and Mr Vishnu Rach/Mr Anil P Sreenivasan have been nominated as the authorised contact persons for seeking any service relating to maintenance of electrical and electronic appliances. A Core Group has been constituted with the following members: Mr Vishnurach (AP, EEE Dept),  Mr Ramesh C R (AP, ECE Dept), Mr Arun K L (AP, ME Dept), Mr Arun Xavier (AP, EE E Dept), Mr Velayudhan (Workshop Supdt.) and Mr Gopalakrishnan C S (Project Engineer).
---
­
Perhaps such a Skill Centre is a rarity and hence a novelty in institutions of higher education.  The management of the College deserves all praise for coming up with such a brilliant idea and now it is imperative on all members of Vidya family to spread the message about the functioning of the Centre to the largest  cross section of the population.
---